Weber Q220
Reviewed By:
Josh Klassen
Our Rating:

The Weber Q 220 is the largest of the Q Series grills that is still relatively portable.
This is a very well made grill that was designed specifically for those who want to bridge the gap between portability and great barbeque cooking, which is a feat that very few grills can lay claim to.
Backed by the Weber name, this model is very durable and built extremely well. It was designed to last for years, even while weathering the elements in your back yard!

Discontinued!
About The Weber Q 220
Features
I love the amount of cooking surface you have to work with. With 280 square inches of grill space to work with, you can easily cook up more than enough hamburgers for a family of four or more. Not that you should stick to hamburgers! Steaks and chicken sear wonderfully. Grilled veggies turn out perfect.
Anyone who has had the opportunity to work with any Weber products knows that quality materials and design are very important. The Weber Q 220 is no exception. With its cast-aluminum lid and body, sturdy glass enforced nylon frame and solid cast-iron grate, it will stand up to heat and weather with no sign of rust or deterioration.
It's also very easy to clean. Its rounded shape leaves no tricky corners for residue to collect in. It also includes a drip pan at the bottom that collects any grease and runoff for simple disposal after you finish grilling.
Other Noteworthy Features
Temperature gauge built into hood
Tall lid leaves lots of room
Cooking grate has a ceramic coating
Three hooks to hang BBQ tools
Folding side tables fold into the grill for easy storage
Stainless steel burner that won't rust
Battery Operated Electronic Ignition
What's Included?
The Weber Q 220 comes with the grill body and side tables preassembled. The lid, handle and temperature gauge are included but need to be attached with the included hardware.
Instructions and a recipe book are also included.
There are no grilling tools, and as I said previously, a stand is sold separately.
Initial Assembly
While there is a bit of assembly required, it really is quite simple. All that is required to put it together is a Phillips head screwdriver and a good read of the instructions beforehand, and it should take you less than 15 minutes to put together.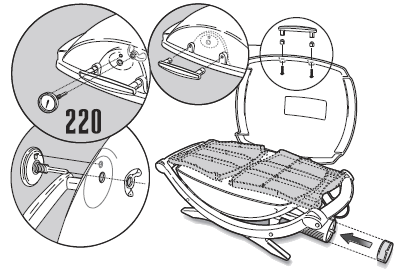 The one note that I want to make is that the instructions are for all Q grills, so take some time to distinguish which parts come with your grill, and which parts are listed in the manual that have nothing to do with it.
Dimensions and Weight
With the lid closed, it measures at 25″ long, 32″ wide, and 16″ high. With the lid open, it's roughly 26 inches high.
It weighs in at about 41 lbs.
Fuel Sources
By default, you can choose to use either 14.1 oz or 16.4 oz disposable propane bottles. Either will work. A 14 oz bottle should give you around 3 hours of cooking time, and a bit more with a 16 oz bottle.
You can make your fuel expenses much more economical by using the accessory adapter and hose made for converting from small bottles to refillable tanks.
As I mentioned earlier, there is a bit of a trick to getting the grill started when using the adapter, or it won't work.
Because refillable tanks have much more pressure, simply opening up the valve will cause the regulator to snap shut or restrict the propane flow. To get around this, open the valve very slowly before you try to light it, and not all the way at once.
If the regulator does snap shut or if your grill won't heat up, you will need to shut off the propane and let it sit for a few minutes to let the pressure subside.
Warranty
Weber extends not only a fantastic warranty to the Weber Q 220 but also has some of the best customer support in the business. If you have any problems – even after your warranty has expired, don't hesitate to contact them.
The warranty itself will cover your grill from defects in workmanship in the body and frame for 5 years. This doesn't include discoloration. All other parts are covered for two years.
Available Accessories
There are a few good accessories that I would highly recommend.
If you need a stand, you have options. If you intend on leaving your grill on the balcony or on the patio, there is a nice stationary stand that doesn't have any larger of a footprint than the grill itself has.
Those that want to travel might want to look into the folding style of stand. It is fairly compact and light while remaining fairly stable.
There are a few different grill covers to choose from. There is a simple vinyl cover that fits perfectly over the grill to protect it, as well as a bigger and heavier cover for those that also have a stand.
If you like to cook eggs for breakfast when camping, a griddle would be a great add on. Just note that it only covers part of the grill grate – but that leaves room for grilling sausages!
And for those of us who don't like using disposable propane bottles, there is a regulator and adapter hose made specifically for use with refillable tanks. There is a bit of a trick to using that sort of a setup, which I get into more detail farther on in this review.
Specifications Overview
In-Depth Review:
How Portable Is It?
While technically it is quite portable because of its size, its weight works against that.
Because all of the components are cast metals, it shouldn't be a surprise that it weighs in at a whopping 41 lbs. Consider how far you will want to carry it, as the weight could become a problem.
Another issue is its shape. Its rounded top makes it a little awkward to store in a small vehicle, especially if you want to throw it in the trunk with everything else you need.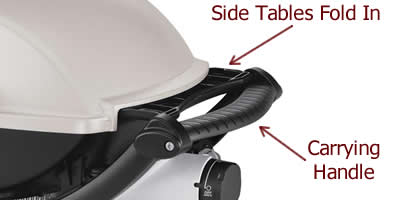 The side tables, which take up a bit of room, do fold into the grill and rest on top of the grill grate.
It also doesn't come with a stand, though there are a couple of styles available, including one that folds. Without a stand, you will need to have a table or flat surface to place it on.
If you do plan on moving it around or storing it somewhere out of the way when not in use, one nice feature is the folding side tables. When you want to store it, simply lift the lid, and fold the side tables inward until they rest on top of the cooking grate, and close the lid back up.
Overall, this grill would be appropriate for those who have limited space in their back yard or balcony. People with larger vehicles and RV owners with a big enough storage compartment would also be fine.
Cooking Capabilities
This is where the Q 220 gets good!
Do you want a portable grill that cooks more like a standard-sized one? If you answered yes, this might be a very good choice!
First of all, I want to explain the heat. It's rated at 12000 BTU's which might not seem like much, but it actually is more than enough to grill anything you like thanks to the design.
Because the body is made of thick, cast aluminum, heat is retained very well with the lid down, even with 280 square inches of grilling surface. It also has just one burner that is shaped in a loop that runs around the bottom, providing maximum coverage.
After preheating the grill for as little as 5 minutes, your thermometer will read temperatures as hot as 600° F. That is more than enough heat to warm up the cast iron grate to a perfect steak-searing temperature.
The space under the lid is quite generous, too. When I first started researching this grill, I'd heard of people cooking roasts and chickens with it, but since then I've read several reviews saying that it's impossible to set the temperature low enough.
As far as how many people it will feed – that really depends on what you want to make. Two racks of ribs will fit. Several hotdogs or preformed hamburgers can all go on at the same time. I recommend it for four people for steaks or chicken, but it can handle many more if serving hotdogs or hamburgers.
When it comes to grilling, the Weber Q 220 gets top marks.
Cleanup and Storage
I have read a few complaints from people saying that they are unable to really get this grill clean. I seriously question their expectations.
Any BBQ will acquire a bit of baked-on grease, and in my opinion, it would be absolutely ridiculous to expect to get it as clean as before it was ever used.
With that said, it's certainly not impossible to clean to the standards that the rest of us have!
Because it has no corners, it's very easy to wipe the interior out with a soft cloth and some soapy water after a good scrubbing with a wire bristle brush, though it is a little difficult to clean up directly underneath the burner. My solution is to pull the cloth underneath the burner, and lightly pull the cloth back and forth to remove grease.
The grill grate has a porcelain enamel, which makes it a little more difficult to clean. My favorite weapon of choice is an abrasive pad that's safe for non-stick surfaces. It will easily remove most of the grease and residue left behind. I like to clean it while it's still warm, but safe to touch. Never use a wire bristle brush on the grate!
And as for all of the other grease and drippings, they will all flow down neatly into the drip tray located underneath the body. This tray is meant to be lined with special drip trays made specifically to fit, but if you don't like the extra expense, lining the tray with tin foil works just as well. When the grill has cooled off, just slide the tray out and toss the tray or foil lining.
The one piece of the grill that does need regular attention is the burner. Before each use, visually check to make sure that all of the holes in the burner are clear. If they aren't, use an old toothbrush or gently use a wire brush to clean out any blockages.
As for storage, it will store extremely well if you have a dedicated shelf for it. Otherwise, leaving it outside is really not a big deal.
Pros & Cons
Pros
Made with very durable materials
Has a thermometer built into the hood
Can cook with the lid down
Heats up quickly, grills evenly, stays very hot
Very easy to clean with well placed drip pan
Cons
Stand sold separately
It's heavier than most portable grills
Only one burner means only one heat zone
Regulator can be too sensitive and lock down
Not all that portable
Ratings and Recommendations
Customer Ratings
After sifting through heaps of reviews, I found that well over 90% of customers were happy with their Q 220 and rated it 4 stars or more!
Based on what others are saying, you would not be disappointed if you chose to go with this grill.

Most comments rave about the size and quality of the grill. Many are satisfied because it's perfect for small patios or balconies, and will easily cook for their families.
Others talk about how easy it is to store in their motor home. My favorite comment was from a woman who originally bought a Q 220 for her RV, but ended up getting rid of her full-sized grill at her house and using this grill instead. She ended up buying a second one for the RV!
Just about all happy owners note that it will get hot enough to perfectly sear just about any cut of meat they throw at it.
Of course, there are always those who didn't have a good experience with this grill.
Most of the complaints I found centered around trying to light the grill when connected to a refillable tank. As I mentioned earlier in the fuel section, there is a method to getting it lit.
A few others did have a problem getting the grill to light or heat up even with a low-pressure disposable bottle – though none of these comments were recent. Weber may have had a problematic regulator in the past, but it seems that it has been fixed. If you do end up with a bum regulator, call Weber for a replacement.
I found a couple of other complaints regarding cleaning, but I was left with the feeling that these people would never be satisfied with any grill. It doesn't matter how much you try, your grill will never be as clean as the day you got it if you actually use it.
A third (single) complaint I found was over the lack of flavorizer bars. To date, I haven't reviewed a portable grill that actually includes them.
Our Recommendation
I love the quality and hardiness of this grill, though I find it to be far too heavy to really be considered portable.
The Weber Q 220 would be best for those with ample storage space or those that need a permanent grill at home that doesn't take up a lot of room.
It really does get nice and hot and will feed at least 4 people, depending on what you're grilling.
Overall, the only real problem I have with it is the weight. If that's not a problem for you, this would be an excellent choice.
Just Portable Grills Rating
Portability
Cooking Ability
Cleaning
Quality
Customer Rating

---

Overall Rating
Alternatives
If you need something more portable, I would recommend the Coleman LXE. It has roughly the same grate size, but is much easier to pack up and move around. The LXE does fall short in some areas, though.
In this article, I compare the features of both grills.
If you like the features of the Q220 but want something lighter or only need to feed two people, check out the smaller version.
Prices and Where to Buy
The Weber Q 220 is pretty consistently priced at around $200 ~ $250. Though it is a few dollars less than last year's price tag, I rarely ever see it on sale.
If you don't want to pay full price, you can always see if anyone in your area is selling it on a classified website, but because it is so popular, it's a pretty rare find!
UPDATE: Since the Weber Q220 is no longer in production, I can't find any retailers that still sell it. A new version, the Weber Q 2200, is virtually the same with the exception of a couple of style changes. Click here to see it at Amazon.

More Research
Do you want a Weber Q but aren't sure which model to buy? Check out my
Comparison Chart
to see the important differences between all models.