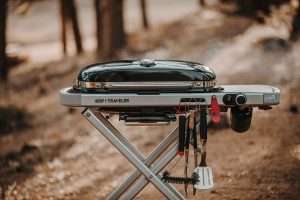 Exciting news in the world of portable grilling. I just learned that Weber is cooking up something big – it's the release of a new portable grill.
This is the stuff that gets me out of bed in the morning.
Details are few and far between at this point, but this will be Weber's first large portable grill with a folding stand. It will go directly against Coleman's RoadTrip Grill line, and from what I can see so far, it looks like it'll be a very good contender.
Highlights include:
a large, 320 square-inch cooking surface – the largest I've seen in a portable grill
One stainless steel burner that produces up to 13,000 BTUs with low to high temperature settings
On first look, it appears to be far more stable than similar grills
Lots of design features like well-placed locks and latches
Multi-directional handle, a second handle that doubles a kickstand
Sleek design with offset temperature controls, a built-in temperature gauge, and rubberized wheels
I don't see anything in current marketing materials that show interchangeable grill/griddle plates, but I do see the use of a cutting board on the side table and pans on the grill. We will need to wait for more information from Weber.
Either way, I'm looking forward to reviewing the Weber Traveler.
More details to follow as I get them. Check back soon.