What's Hot: The Weber Q1200 is capable of grilling just like a big grill but in a much smaller package.
What's Not: Heavier materials and awkward shape can make it difficult to store and use during travel.
The Bottom Line: Great for patio use where space is limited and ideal for RV owners with plenty of storage compartments.
About the Weber Q1200 Portable Grill
The Weber Q 1200 is one of three grills in the Q 1000 series. Like the Q1000, it is a propane gas portable grill, but it has a few upgrades. It currently available in 8 different colors and has a variety of accessories available separately. It's available at retailers for a slightly higher price tag than grills of a similar size.
Features
These grills ooze quality. No major components on the Q1200 will rust. The essential parts – the grill box, lid, and grill grates – are composed of cast aluminum. Nylon reinforced with glass – in a fiberglass kind of way, I assume – is heat resistant and durable.
It's designed to clean up fast. Cleaning is never fun, but the Weber Q grills are much easier to clean than most other portable grills on the market.
My favorite feature is the cooking surface. The heavy-duty cast-iron grates have a tough porcelain coating. Contrary to many opinions, as long as you take the time to preheat appropriately, they will absorb and distribute heat evenly, resulting in delicious seared-in flavor.
Other Noteworthy Features
8500 BTU's across a single Q-shaped stainless steel burner
Thermometer housed in the grill hood
Minimal assembly required
Removable catch pan
Electronic ignition
189 square inches of grilling area
Currently available in 8 different colors
Fold-out tables
Loads of accessories available
Superb customer service backed by one of the best warranties in the business
In-Depth Weber Q1200 Review
I'm embarrassed at how long it's taken me to publish this review, but here I am, four years after the Weber Q redesign, dragging my feet to compile all of my notes.
Very little has changed since I reviewed two Weber Q grills over seven years ago. A slight model name change and some cosmetic updates are the only differences between the old and new grills. The Q line of grills still have all of the same features, the same specifications and most importantly, they all operate the same and produce the same results.
You may be asking if the new and old grills are so similar, why take the time to create a fresh review at all? I'm not even sure that I would have, except that I still own a Weber Q grill. I feel like I'd be doing a disservice if I didn't give you the most accurate review possible.
Though the Weber Q1200 is nearly identical to its older counterpart, I have learned that underneath their stylish façade, there are some differences worth pointing out.
How Portable Is It?
While the Q1200 will be just the right amount of portable for some, it will be a definite fail for others.
It uses small, disposable 14oz or 16oz propane tanks for fuel. If you would prefer to connect a much more economical and refillable 20lb propane cylinder, Weber makes an accessory adapter and hose that will do that. There is also an aftermarket kit that will let you convert a Q grill to use your RV's low-pressure quick-disconnect line. Learn more at Learn to RV.
I feel there one massive strike against it being genuinely portable. It's around 30 lbs and is a bit cumbersome to transport without wheels. Out of the box, it feels a little clunky and awkward. It isn't the type of grill you would be willing to carry very far. There is a stand available that would make it easier to haul. But, after paying more money for a practically stationary Weber Q, a stand may not seem that viable. Or it might. I suppose that it depends on how much more a Weber Q1200 appeals to you.
Cooking Capabilities
Before we talk about how capable it is at cooking, we need to talk about specifics.
The grill surface is roughly 12½″ front to back and 16¾″ side to side at its widest points. Weber lists the surface area at 189 inches². It's large enough to grill about six larger hamburger patties or around 18 regular hotdogs. Alternatively, two smaller steaks on one side and a veggie pack on the other. I find this to be the ideal size for two people who grill regularly, or in some cases, a family with young children. If you only use your grill for meat and not for any sides such as potatoes or veggies, it will up to six people.
A stainless steel Q-shaped burner tube produces 8,500 BTUs of heat, which the grill efficiently and evenly disperses across the entire grill surface. It takes 10-15 minutes to preheat thoroughly, but it must be preheated with the lid down.
How Well Does It Cook?
Do you like a hot grill? The Q1200 tends to run hot, even on its lowest setting, which is perfect for direct grilling. For those of you who live to grill with indirect heat, it isn't done well on a unit with a single burner. If indirect cooking is necessary, Weber suggests is that you use a grill basket to create a little more distance from the flame.
The grill grates are cast iron and are more plate-like where they cover the burner. The benefit here is that it limits the amount of grease that can fall on the flame, resulting in fewer flare-ups.
There is also a very durable porcelain coating covering the grates. Preheating is a requirement because if the grates aren't hot, your food could bake right on. Using a little oil helps, but for best results, Weber suggests oiling your food rather than the grill grate.
While wind can be a factor, it's pretty easy to work around. Just set up the grill so that the lid opens away from the wind, creating a natural wind barrier. It also works very well in temperatures below freezing, for those of you crazies who insist on doing that.
There is a griddle plate available that will turn half of your grill into a griddle. It's great for those who like to cook breakfast or want to whip up some caramelized onions or bacon for burgers. However, Weber warns that only one griddle plate can be used at a time, as using two will likely cut off airflow to the burner, kill the flames and cause a propane buildup. So, be safe and use one griddle plate.
Clean-Up
Now, cleaning is never fun or easy, but I feel like Weber Q1200 is super easy to clean. In fact, it's one of its best features.
The grease tray in the bottom of the grill collects the grease and debris that runs out. Weber sells disposable aluminum trays that fit in this little compartment, but it's not necessary to use them. In my opinion, it's not much more work to clean out the tray along with the rest of the grill. If you are interested in using them, they are relatively inexpensive.
After you have finished cooking for the day, let the grill cool off enough to handle the grates. Remove the grease tray and dispose of the liner and its contents appropriately. Wipe out the tray. Remove grill grates, them, and using warm, soapy water, wipe out the grill body and lid, inside and out. Pat dry if needed, and replace the grease tray.
The grill grates are the toughest part to clean, but they are small enough that they will fit in a dish tub to soak when you're away from home. It's a terrible idea to use a wire brush on them because of their porcelain coating, but if you do use this grill at home, keep in mind that the grates are dishwasher safe.
A final note to all coastal dwellers or poolside grillers, wash and rinse down the exterior surfaces regularly to keep your warranty valid.
Quality
Overall, the Weber q1200 is a quality-made product, but there are three things to watch.
First, the good. As I mentioned earlier, the materials used to make all the main parts are either cast aluminum, stainless steel, or glass-reinforced nylon. All of these materials will hold up exceptionally well in most situations, given that the grill is stored correctly when not in use. By that, I mean, don't leave it outside in the elements and expect it to look pretty in five years.
The biggest issue to watch is the regulator. There is a good chance that it'll be perfectly fine, but if it does crap out, it'll be within the first few uses. Call Weber's customer service number found in the manual, and they'll likely send out a new one.
A moderate issue has to do with a design flaw. It seems that the handle above the regulator is not quite in the right spot, and it can be challenging to attach a 16.4oz propane bottle to it. Weber suggests lifting the grill up by the right side handle to connect the cylinder at a bit of an angle. Modifying the handle by grinding or filing out a bit for extra clearance will void your warranty.
A minor issue is regarding the igniter since it is the quickest wearing part. Weber makes replacements available and provides instructions on how to replace it yourself. If you are away from civilization and the igniter fails or the AAA battery dies, use a match the hole in the bottom of the grill.
Noteworthy Customer Complaints
I've read several accounts from owners stating that the grill runs hot regardless of the burner control setting. In contrast, others say the regulator is bad right out of the box. I am not technical enough to know if these problems stem from the same issue, but it wouldn't surprise me if they are. If you find that the Weber Q1200 is running hot on the first run, give it some time before assuming there's a problem. The manual leads me to believe that it's normal for the grill to run hot for its first few uses. If it passes the break-in period without improving, then give Weber a call. They will likely replace your regulator free of charge.
Also, keep in mind that if you have issues lighting the grill, read the manual to learn how to troubleshoot the igniter, regulator, and burner.
Warranty
The warranty covers grills given as gifts but is otherwise non-transferable. A 5 year warranty period includes the grill body, lid, grates, frame, side tables, and burner against rusting or burning through for. The paint is covered for two years as long as it's not normal fading or discoloration. Everything else (I'm assuming fasteners, hardware, and thermometer) is protected by warranty for two years.
What's in the box?
Grill Lid (with attached side tables)
Grill Box (with preassembled burner)
Cooking Grates (2)
Thermometer
Parts to finish assembly
Initial Assembly
The Q 1200 will arrive mostly assembled, and what's left to put together is straightforward. You will need a Phillips head screwdriver and no other tools.
Steps:
Unpack grill from the box, and remove the detached lid. Open up the pre-attached side tables</li
Attach lid by inserting cotter pins and bolts in hinge holes
Attach the handle to the lid by using provided screws, washers and spacers
Insert the thermometer into the lid and secure with wing nut
Attach burner control knob, put in grill plates, place the drip pan in catch pan and slide in under grill
`
Bask in your own marvelousness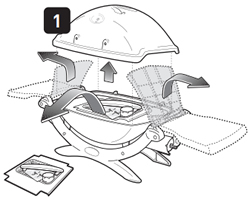 Weber Q1200 Accessories
Ratings & Recommendations
Customer Ratings
I can't ignore the hordes of favorable ratings. If you can believe it, I gathered over 3100 reviews and found that over 94% of Weber Q 1200 reviews were positive. Only 4% were negative, and the other 3% were lukewarm.
Many positive reviewers accepted that there were a couple of issues. Still, they were more than willing to overlook the Q1200's shortcomings because they liked it that much.
The biggest complaint from negative reviews was about how hot the grill was, and in some cases, how hot it wasn't. I would guess that most of these people had regulator issues, and in many cases, could easily be solved by contacting Weber's customer service center.
The other common problem noted was from people who found it difficult to attach a 16oz propane cylinder, which I mentioned in the Quality section of this review.
Just Portable Grills Rating
Portability
Cooking Ability
Cleaning
Quality
Customer Rating

---

Overall Rating
My Recommendation
I wholeheartedly recommend the Weber Q1200 portable grill. One of the few grills I've kept around after reviewing was a Weber Q1200. While I completely understand that it's not the right grill for everyone, it's the right grill for many people.
What do I like about it? I like that it's mostly cast aluminum. I like that Weber stands behind their grills and I love their customer service.
Do you have limited space on your patio or balcony? Do you want something that will store easily in your garden shed, but still grills wonderfully? Buy it.
Do you RV, tailgate, or picnic in the park? It's perfect for that.
Do you want a small grill that's easy to move on foot? Buy the stand, too.
Do you want something that's going to cook for more people? Try the Weber Q 2200, which is a bit bigger. See it at Amazon.
Prices & Where to Buy the Weber Q1200
I've had a lot of luck with BBQ Guys as of late. Other places don't seem to keep this grill in stock.
More Information
Specifications
Weber Q1200 Specs

| | |
| --- | --- |
| Brand: | Weber |
| Model Name: | Q1200 |
| Model Number: | 51060001 |
| Grill Height: | 40.9″ |
| Grill Width: | 16.5″ |
| Weight: | 30 lbs |
| BTUs: | 8500 |
| Main Fuel Source: | Liquid Propane Gas |
| Default LP Bottle Size: | 14.1 oz. or 16.4 oz bottles |
| Upgrade to larger bottle?: | Yes, with accessory hose (not included, see Accessories section) |
| Cooking Surface Area: | 189 in² |
| Grill Materials: | Porcelain coated cast aluminum |
| Body Materials: | Cast aluminum |
| Burner Materials: | Stainless steel |
| Number of Burners: | 1 |
| Igniter Style: | Electronic igniter (includes AAA battery) |
| Built In Temperature Gauge: | Yes |
| Side Tables: | Yes |
| Stand: | Available separately (see Accessories section) |
| Warranty: | 5 Years on the firebox, lid assembly, burners, grates and plastic parts. Paint and all remaining parts – 2 years. Does not include paint fading or discoloration. |
| Price Range: | $219 MRSP |
More Resources