Char-Broil Portable Gas Grill
Reviewed By: Josh Klassen
Our Rating:
What's Hot:
The Char-Broil Portable Gas Grill is an incredibly basic grill at an incredibly basic price. Great for those that know they won't have much room for storage or grilling.
What's Not: Widespread complaints of cheap materials and a short warranty leave many customers feeling a little burnt.
The Bottom Line: The Char-Broil Portable Gas Grill is good for some situations, but as it lacks the reliability or cooking versatility that many of us need, it may be in your best interests to look elsewhere.
About the Char-Broil Portable Gas Grill
Formerly known as the Char-Broil 190, this little grill has been around forever. Though there have been changes to it over the years, it's not at all surprising to me that those modifications are slight. When you have a portable grill that's as dressed down as this one, there's really not much to change.
The Char-Broil Portable Gas Grill is easily the most basic portable grill I've reviewed. While this is not a grill I would personally choose, I understand how it would fill a need for others.
Features
Very small and lightweight. Though some other grills I review have the same or smaller grilling space, none are nearly as light 7as the Char-Broil Portable Gas Grill. Though it has a reasonably-sized 187 square inches grill grate, it weighs a mere 9½ lbs.
Folding Legs pull double-duty and act as a locking mechanism to keep the grill secure when it's not in use. When it's time to set up and grill, they quickly extend down into a table-top stand.
Two models to choose from. The standard model, which is a simple grill with no frills, or the deluxe model, which has only a couple of small upgrades.
Other Noteworthy Features
11,000 BTU output over a single straight burner
Wire cooking grate is porcelain coated and dishwasher safe
Steel body and lid with porcelain finish
Handles stay cool to the touch
Replacement parts readily available
In-Depth Char-Broil Portable Gas Grill Review
Difference between the Standard and Deluxe Versions
While I normally try to review different models separately, both versions of the Char-Broil Tabletop Gas Grill are almost identical. One model is a completely no frills, and the other has exactly two frills. Neither of those frills is anything worthy of another review.
Both LP versions of this grill are the same size. I want to note this because some sites are incorrect when stating that that the deluxe model is bigger. From what I can see, these sites may be confusing one of the grills with the charcoal version, which is indeed larger. The charcoal version is not part of this review, but in many ways it is also very similar.
The Standard model is extremely basic. It has no ignitor and must be lit with a match or a bbq lighter. The Deluxe model includes a piezoelectric ignitor, different handles and a bit of extra heat shielding in the lid.
The bodies of each grill are also slightly different, but that appears to be only to accommodate the slight differences of the deluxe model.
They are otherwise the same, and in many cases they share part numbers for many replacement parts.
How Portable Is It?
The Char-Broil Portable Gas Grill is very portable. I don't think that grills get any more portable, unless you were to go with an expensive backpacker-style grill. It weighs less than 10 lbs and is very easy to take just about anywhere.
Each of the two legs fold up and lock the lid in place. When packed up, the grill has a pretty small footprint as well. Because of its size, it's easy to tuck it away in an RV or camping unit where storage space it already at a premium. The boxy design may not seem that stylish, but it's a heck of a lot easier to pack around.
These features make both versions of this grill very portable.
Cooking Capabilities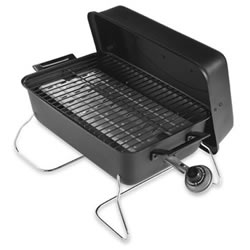 The Char-Broil Portable Gas Grill is marketed as being a great grill for cooking at low temperatures with the lid on. This must have started as a joke in the marketing room that stuck because they couldn't figure out how else to market it.
I have reviewed a few other grills with roughly the same grilling space and also rated at 11,000 BTUs that are MUCH hotter. Sure, they aren't perfect either, but they also don't cost less than $40.
Keeping that in mind, what can you expect?
You can expect to cook hamburgers, hot dogs, chicken and fish thoroughly when the lid is on. It would probably be perfect for a few potatoes. It's probably not best for steaks or other high-temp fare.
The lid has a couple of clips on it that will allow it to hang off of the back of the grill (as pictured on the right). This can act as a windbreak as well as a way to try to retain a little heat.
Though it can take around 10 minutes to warm up, you can expect it to cook pretty evenly thanks to its straight burner.
You can also expect to cook for 2 – 4 people comfortably. The 187 square inch cooking grate will hold six to eight preformed hamburger patties.
One thing to keep in mind is that it can be a little bit of a gas-hog, so it's a good idea to keep an extra bottle of propane on hand. Or use a universal hose and regulator to upgrade to a refillable bottle.
And if you are using bottles, make sure that you can place the grill somewhere like at the end of a picnic table where the propane bottle can hang straight down as Char-Broil recommends.
Cleanup
Cleaning up after cooking is fairly easy. Wipe the grill body down with some soap and water while it's still a little warm. There is no grease tray to worry about, but there are drain holes in the bottom of the grill. If you care about the surface you're cooking on, I'd recommend putting down some foil to catch any grease or run off.
Don't use any abrasive cleaning pads on the grill or the grill grate, as both have protective coatings that may scratch. Nylon bristle brushes or the blue 3M abrasive pads should be okay as long as cleaning is fairly gentle.
The burner guard is very thin and sharp. Take extra care when cleaning it, and make sure to wipe it down every time.
The grill grate is, however, dishwasher safe.
Quality & Initial Assembly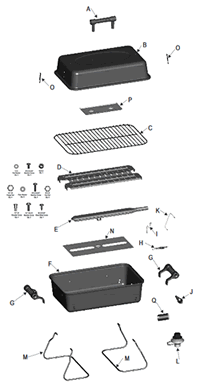 This is not a high-quality grill. It feels pretty flimsy. The steel body and lid are very thin and am concerned that it wouldn't take much to dent it and damage the paint.
Both the deluxe and standard versions of the Char-Broil Portable Gas Grill come completely unassembled, and there are many pieces for such simple grills. Don't worry, the instructions look a bit scary, but it's actually not too difficult to put together.
When you are ready to assemble it, triple-check to make sure you have all parts listed in the parts list for the version you chose, and give the instructions a good read so you know what you're getting yourself into.
You will need a Phillips screwdriver and an adjustable wrench. Be careful not to over-tighten any screws as some pieces have been known to break.
Lastly, on its first light and before any food is cooked, run the grill with the lid on at the highest setting for at least 10 minutes. Char-Broil recommends you do this to 'cure' the paint and parts and burn off any chemical residue.
Warranty
There is a 90-day limited warranty that covers all parts from perforation, manufacturing and material defects. It expressly does not cover anything beyond the replacement parts, such as shipping or labor.
Considering the price of the grill, this warranty is pretty much moot. If you have a defective grill, return it as soon as possible to the retailer and let them deal with it.
I have seen some reaching out online from Char-Broil's customer service department, but I can't imagine that they put that much effort into a $30 product.
Ratings and Recommendations
Customer Ratings
I have not seen such a popular grill with such poor customer reviews.
As you can see in the image above, I collected nearly 1500 reviews from several different retailers, and many tell the same story.
A full 25% of reviewers do not like the Char-Broil Portable Gas Grill. There were a lot of problems noted, but many of them were based on either faulty parts on delivery, or total failure to work after a short period of time.
Even worse, there were quite a few people who bought it as their only grill for a camping trip, just to find out that it didn't work.
To be fair, there were some owners who left good reviews. Many of those people state that this is their main grill and is used all of the time with no issues.
Some even said that it was okay for the price, or felt that it disposable and didn't expect it to last more than one season.
Click here to see all customer reviews on Amazon
Just Portable Grills Rating
Portability
Cooking Ability
Cleaning
Quality
Customer Rating

---

Overall Rating
My Recommendation: I can't recommend it. Though it may be an inexpensive option, it has reliability issues. There is a strong possibility of receiving a grill with defective parts. Even if it does work, it may not cook properly or it might stop working when you least expect. In my mind, it would be better to spend the extra money on a higher-quality grill.
Prices and Where to Buy
Both models can be found for around $20 – $40, though the standard version is a little cheaper. If feel this grill is right for you, pass on the Deluxe version and go for the Standard.
Available Now At: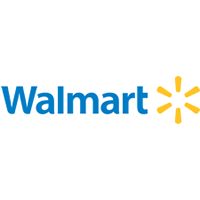 Click the logo to see current price and availability
Technical Details & Specifications
Specifications
Char-Broil Portable Gas Grill Specs
Brand:
Char-Broil
Model Name:
Portable Gas Grill
Model Number:
Standard: 465133010
Deluxe: 465620011
Grill Width:
12.3″
Grill Depth:
15″
Grill Height:
9.5″
Weight:
9.5 lbs
Main Fuel Source:
1 lb LP bottle
Cooking Surface Area:
187 square inches
Body Materials:
Coated Steel
Burner Materials:
Stainless Steel
Number of Burners:
1
Ignitor Style:
Standard: None
Deluxe: Piezoelectric
Built-In Temperature Gauge:
No
Side Tables:
None
Stand:
Built In Tabletop Stand
Warranty:
90 Day Limited
Price Range:
$20-$40
In The Box
Completely unassembled grill and manuals.
More Resources
See the Deluxe grill manual here.
See the Standard Grill Manual here.