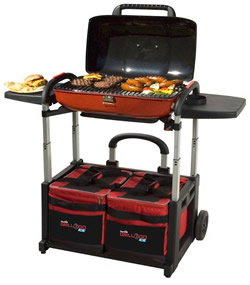 Char-Broil Grill2Go Ice
Reviewed By:
Josh Klassen
Our Rating:
You may ask how you could go wrong with the Char-Broil Grill2Go Ice. Surprisingly, this great concept didn't turn into a great portable grill no matter how much fun it looks.
It might have killer looks and fantastic extras like the cooler bags, but as we all know, looks can be very deceiving.
This review takes a hard look at this incarnation of the Grill2Go, and while we may have decided to pass, you still might be interested.

Discontinued!
Char-Broil stopped making the Grill2Go Ice as shown. I am not currently able to suggest a Char-Broil replacement, but if you like this style of grill, you may be interested in one of the
Coleman Roadtrip grills
.
About the Char-Broil Grill2Go Ice
Features
Char-Broil has integrated its patented infrared cooking system to direct as much heat as possible from the 10,500 BTU single burner toward the cooking grill, ensuring that foods cook quickly and evenly.
And with 290 Square Inches of grilling surface, you can cook quite a bit of food at one time.
What makes this grill really unique are the 2 removable 30 quart coolers that sit in the bottom of the grill's collapsible stand. When the stand is collapsed and the grill is in transport mode – which reminds me of rolling luggage – both cooler bags are firmly held in place.
Other Noteworthy Features
Very easy to clean
Steel grill grate is porcelain coated
Easy to collapse and store
Reduced flare-ups when compared to other portable grills
What's Included?
The Char-Broil Grill2Go Ice comes with the partially assembled grill and stand, two soft-sided coolers and two detachable side tables.
Initial Assembly
The Grill2Go Ice comes to you in pretty close to 50 pieces. I didn't count.
Assembly can be confusing to the average person, but not entirely impossible. While the instructions are confusing, some common sense – and an extra set of hands – is all it takes to get it up and running in fairly short order.
It is a good idea to sit down with the instructions and go through all the parts before trying to put the grill together. This will help you to avoid putting the grill together incorrectly and possibly damaging it.
All small parts are marked in very easy-to-identify packaging. All you need a is Phillips head screwdriver and an adjustable wrench to assemble – and a bit of patience.
Assembly will go much easier if you have another person to help you by holding bigger parts in place while you attach them, like the lid and the handle.
The average person with a bit of technical know-how who has looked through all the parts could probably have it together about 45 minutes. Faster if they have help.
Dimensions and Weight
Assembled and expanded for cooking, the Grill2Go's dimensions are 44.5″ wide x 37.5″ high x 20″ deep and weighs approximately 70 lbs.
Fuel Sources
Out of the box, this grill uses 16.4 oz disposable propane bottles. You can expect a bottle to last anywhere from 1 to 3 hours, depending on how high you keep the burners set.
If you plan on a major cookout, I would advise keeping at least one extra propane bottle on hand.
Disposable propane bottles are available at big discount stores, hardware and home improvement stores, and sometimes at supermarkets and gas stations.
For the economically minded, an attachment hose is available separately to connect to larger refillable propane tanks.
Warranty
This grill has a very short limited 90 day warranty that covers perforation, manufacturing and material defects, which doesn't sit too comfortably with me.
Available Accessories
The Grill2Go doesn't have your usual list of accessories, but certainly has a few good ones!
The 4-Foot Hose and Adaptor, as mentioned above, converts your grill from using disposable bottles to refillable tanks.
A Grill Cover that fits the Grill2Go when in its compact storage position.(No longer available)
A Trash Bag Holder that fits onto the grill to hold shopping bags (No longer available)
A Cargo Bin that can replace one cooler and hold tools, paper towel and anything else you might need.(You guessed it, not longer available.)
Specifications Overview
A Critical Review:
How Portable Is It?
While the design concept of the Char-Broil Grill2Go is fantastic, it sadly doesn't translate into a real-world portable grill.
The first strike against portability is its weight. Coming in at around 70lbs with empty coolers, many people would have a hard time lifting it in and out of their vehicles.
And that's if it will fit into your vehicle in the first place. Unlike many other portable grills its size, when in its compact state, it still takes up quite a bit of room due to the extra height of the cooler bags. It might fit if you have a large SUV.
Maneuverability is also a bit hit-and-miss. While the grill does compact fairly neatly and does have a set of wheels to tote it around on, these wheels don't seem to have a high enough profile to roll it comfortably across anything beyond pavement or a smooth path.
Combine that with the fact that you can only pull this grill around as pushing the grill in any direction will cause the handle to retract, and you have a not-very-portable grill.
While setting the grill up and down is very easy, the bottom line is that it's really too big, too awkward and too heavy to be called a portable grill.
If you can easily lift 70+ lbs in to the back of your truck or SUV, this could be your perfect portable grill. Otherwise, we recommend it for those who only plan on rolling it out of their garage and into their driveway.
And of course, it does fold down neatly for storage, but I don't recommend leaving it in a place where it will be exposed to rain or snow.

Do you need a grill with more portability?
We have reviewed a grill that is styled similarly but is much lighter and has much higher ratings. Check out this
portable grill
.
Cooking Capabilities
Fortunately, the Grill2Go Ice will cook a little better than it will move, but don't expect it to turn you into a 5 star chef.
It's main feature is the infrared tray that sits underneath the cooking grate. What this does is collect the heat produced from the 10,500 BTU output burner, and directs it to the grill. This helps to cook foods a little faster without worrying about any charring, as the burner isn't exposed to any grease that drips off of your food.
Juices that fall onto the tray also are immediately vaporized, which is great for extra flavor if you cook with the lid down. For more of a smoke flavor, just add some wood chips of your choice to the infrared tray.
One issue that I have is that the cooking grate isn't made of cast iron, but that's really a personal preference. Cooking steaks, chicken and any of the other usual bbq foods is no problem.
I wouldn't recommend trying cook with pots or pans. Because the grill doesn't use a direct flame, heat will not penetrate your cookware enough to cook well.

Warning:
The infrared tray should NOT be used as a griddle.
This is a common mistake many people have made because it does look like it could very well be a griddle. It's not!
The infrared tray must be placed underneath the grill surface when the bbq is in use.
Cleanup
While the infrared panel is designed to catch any grease that drips off your food, there is the potential that it will run off and out the bottom of the grill and land on the cooler bags. The obvious remedy is to remove the cooler bags while cooking.
Otherwise, this is a very easy grill to clean since the infrared tray catches the majority of grease and debris.
Char-Broil recommends wiping down the unit with a strong detergent or grill cleaner. While they also recommend burning food debris off the cooking grate, don't be surprised if the grate will require a little bit of extra attention. I used a cleaning brush with firm plastic bristles to scrub any extra food and grease off with no problem. I wouldn't recommend a wire brush as that might damage the porcelain coating.
Quality
This is not a high-quality grill that will last you for years. I actually expected it to be fairly flimsy as I'd read up on it before I purchased it and found that many others say the same thing.
When I recieved my Grill2go, I opened the box to find the lid was dented and the paint was chipped in that spot. The body is made of pretty thin steel, so it's no surprise that this is a common complaint.
Another issue is that some of the supporting pieces are made of plastic and are prone to cracking. This isn't something that I experienced, but after taking a close look at the pieces, I could see why they might break. They seem a little brittle.
The overall quality of this grill leaves much to be desired, though if you can get through assembling it without breaking anything, it does sturdy up a bit.
Pros & Cons
Pros
Compact design allows for easy storage
Extra cooler bags to store food and beverages separately
Infrared tray stops charring, adds flavor, and helps with cleanup
Looks fantastic
Cons
Weight – too heavy to be really portable. Also very big even when in its compact state. Will not fit into most cars.
Wheels are only high enough to tote on smooth surfaces.
Cheap materials
List price on Char-Broil's site is $159.99, but at the time of this writing I could not find it for less than $200, and isn't even available through Char-Broil's site.
Short warranty
Ratings and Recommendations
Consumer Ratings
General reviews and ratings are mixed. Some people love the way it cooks. Others complain that it doesn't stay lit. Some people had issues with assembly, others had no problems and feel it's quite a sturdy product.
But overall, through all of the consumer reviews I found, this grill could hardly muster up a 3.5 star rating, and just barely half of raters giving it a satisfactory or better rating.
When comparing satisfied to unsatisfied customers, it seems to me that this grill may be a bit of a gamble.
Our Recommendation
While the cooler bags give the impression of portability, we found the Grill2Go Ice is too big and heavy to get into the average vehicle. This makes the whole unit pointless as a portable grill. I mean, if you can't move it around a whole bunch, what's the point in having the cooler bags? A novel concept, poorly executed.
On the other hand, I can see how having the collapsible features might be suitable for people who want the ability to store their grill in smaller spaces when not in use. If you have limited room in your garage or on your patio, this might be a good option.
Overall, based on the design and the questionable comments coming from other owners, this grill is not a great choice. It probably wouldn't be the worst choice you could make, but you could do better.
Just Portable Grills Rating
Portability
Cooking Ability
Cleaning
Quality
Customer Rating

---

Overall Rating
Let's face it. The Grill2Go is awkward to transport, and isn't the best quality. It would have made a beautiful grill if the quality had been a bit better. As it is, a really cool design is all I like about it.
But together with my dented lid, reports of faulty parts, and the weight, I can't bring myself to rate it any higher.
Alternatives
Though there aren't any alternatives that have stow-able cooler bags, a grill that's very similar in features yet far more portable would be the Coleman LXE. The only major feature that it doesn't have that the Grill2Go Ice does is the infrared plate. Otherwise, it has more heat, another burner, better reviews, and is far more portable.
Prices and Where to Buy
In itself, the pricing of this unit is a bit of a mess as well. Char-Broil's site hasn't it listed as available in quite some time, but they do have it at a list price of $159. As far as other retailers go, I very rarely see it listed for anything less than $200.
It could be that this model is no longer in production, as it seems every day fewer and fewer retailers are even listing it. Amazon has consistently had it listed, and only because they have 3rd party sellers who have it available.
Update: I haven't seen this grill available from any retailer since late 2013, and most of the accessories haven't been available since 2017. The old Amazon product page can be found here.