I have decided that Condo living is not for me – or at least the condo I'm currently in isn't.
I don't like the small balcony.  If I said that I loathed it, it would be an understatement.
After living in this place for a little over a year, the wife and I have decided that it's time to start looking for something a little more suited to us. We both miss our old backyard, though neither of us misses having to take care of the mowing and landscaping and such that comes with such a big lot.
We're looking for a happy medium. Maybe a condo, maybe a townhouse. A home that has a little patio, some grass, and a place to grow a few vegetables is what appeals to us. An outdoor space to call our own that isn't limited to a 4' x 6' slab of cold, exposed concrete.
So, it got me thinking. If I wanted to get a new grill for a small backyard, what would it be? I'd like something stylish – something unique. Should it be multipurpose? How much am I willing to spend?
Then I started looking around, and the questions faded away as I started finding small grills that seemed neat, but sadly, most of them are only available in Europe. We Americans are far behind the times when it comes to funky grill styles, but after a lot of digging, I did find a few that I thought I would share!
Bodum Fyrkat Picnic [Model 11529]

Watch eyebrows raise when your guests see this sitting in your backyard. While it is available in the traditional black, I wanted to share this funky chrome and red combination because it's nothing short of slick, like many Bodum products.
It's designed quite well for a small charcoal grill – I like how the lid locks for easy transport. You won't need to worry about knocking it off when it's not in use.
Update:After checking around in March/2020, the Fyrkat isn't available anymore. I'm sorry to see it go!
Americana Lock 'N Go Electric Grill

If you are stuck with fire regulations that make a charcoal or gas grill a non-option, you might want to check out this one. It's electric, but unlike most electric grills, it heats up very well.
And according to several owners, the flavor gets better if you don't clean it after every use! If you don't like that idea – or even if you do – add some wood chips to the bottom to get a good smoked taste.
All that, and it'll look fantastic on any balcony or picnic table. I like the red color, and you can't help but smile at its funky retro design. I'd like to note that it is powder-coated, so the color shouldn't fade or burn.
The Lock 'n Go is available at Amazon or around $80.
Landmann Northern Lights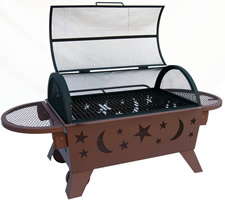 I like this one, and while I wouldn't use it as my primary grill, I'm certainly thinking about picking it up to use solely as a fire pit. It's just a cool bonus that it comes with a cooking grate as well.
Not only does it look nice on its own as a yard ornament, but I can imagine building a small fire and sitting around it on chilly fall evenings. While there isn't anything quite like a real fire pit, it's not ideal for most small backyards. It would also be a lot easier to clean.
I saw it at Wayfair for less than $200.
Eva Solo

Okay, it's a pail. But it's a really nice pail.
This grill would rock any patio that has clean lines or any amount of polished stone. It features a simple, but very eye-catching design. Very popular in European design circles.
They apparently work well, too – which is a good thing when you look at the price tag. It has a fireproof porcelain bowl at the bottom with a stainless steel grid on which you place your charcoal.
The best part? The whole thing will fit in your dishwasher. That's worth the extra cash all by itself if you ask me.
I found it at several places for $250 to $300, but once again, Amazon had the best price.
Primo Oval Junior

That brings us to what I've decided on. The Primo Oval will be my big purchase, my housewarming gift to me. Look at how beautiful it is.
I've always wanted to try out a ceramic 'komodo' style grill, and with any luck, I will before summer is out. It's primarily meant for use as a smoker, but it will have no problems getting more than hot enough to use as a grill, too.
While it is short, it will sit very well by itself on fireproof patio blocks. You can buy some very lovely stands for it, but I plan on seating it by itself on the corner of my future patio – even if I have to build the patio myself!
Keep in mind that this thing is not even a little bit portable. It weighs in at well over 100lbs.
The price tag on this one is a hefty $700 but is surprisingly cheaper than many similar models. Keep in mind: a ceramic smoker grill is the ultimate outdoor cooking experience. Worth every penny in my mind.
I'll be picking mine up from Amazon strictly because they'll replace it fast if it arrives damaged.